In the autumn of 2019, it was decided that Mantena will be the sole provider of maintenance for trains running in southern Sweden and the Öresund area. After a long round of mobilization with many new hires, as well as planning and testing at the new workshop, the company is almost ready for start-up.

Among the largest maintenance contracts for trains in the Nordic region
The Öresund contract is valid for eight years and starts in mid-December 2020. A total of 111 trains operate on the railway network from Copenhagen to Malmö and Kalmar, amongst others places – an area with a population of approximately 5 million.

State-of-the-art workshop
The Öresund trains will be maintained at a completely new workshop at Hässleholm in Skåne. The workshop was completed in May this year and is a full 26,000 square meters, with a price tag of around SEK 1.5 billion. This is the most modern workshop in Sweden with completely new technology and equipment for service and maintenance. Everything is in place for Mantena to be able to get trains back in service as quickly as possible.
Get a 360º tour of the new workshop at Hässleholm here.

100 new hires
In June, SJ and Mantena got the keys to the workshop. The time leading up to the opening in December is being used to adjust and adapt facilities and processes, including testing of workshop equipment and training of employees. Following the contract signing, we have been actively working on recruitment. Mantena will need approximately 100 new people, including train technicians, troubleshooters, team leaders, shifters, warehouse staff, planners and managers. Interest in the new positions has been huge, and lots of competent people have been added to the team – many of them from the local area around the workshop. Together with the employees in SJ, around 150 people will work at Hässleholm making the workshop one of the largest workplaces in the area.
– It is exciting collaborating so closely with SJ to ensure that the Öresund train traffic works. It is important both for those who travel and commute in southern Sweden, and those that travel between Denmark and Sweden, says Marcus Jansson, Fleet Manager at Mantena.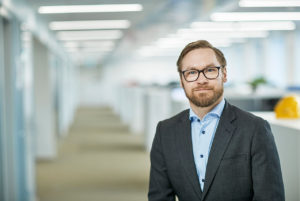 We are still actively looking for more people – see our job postings here.