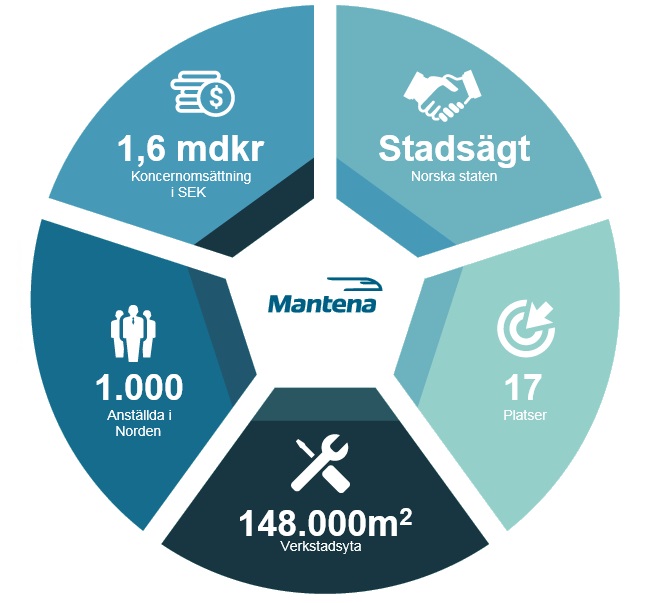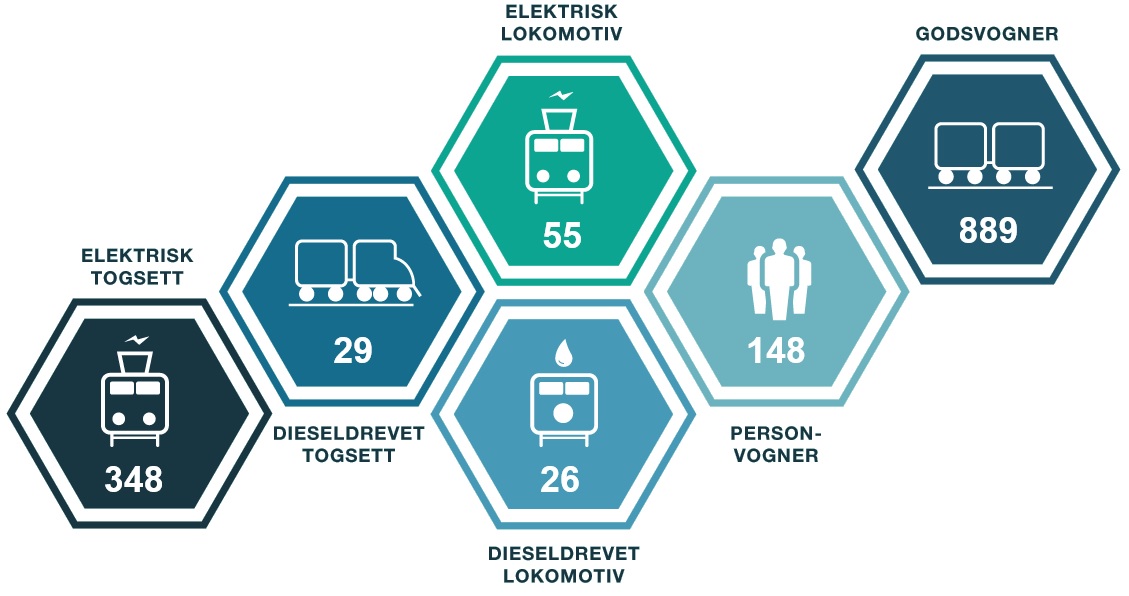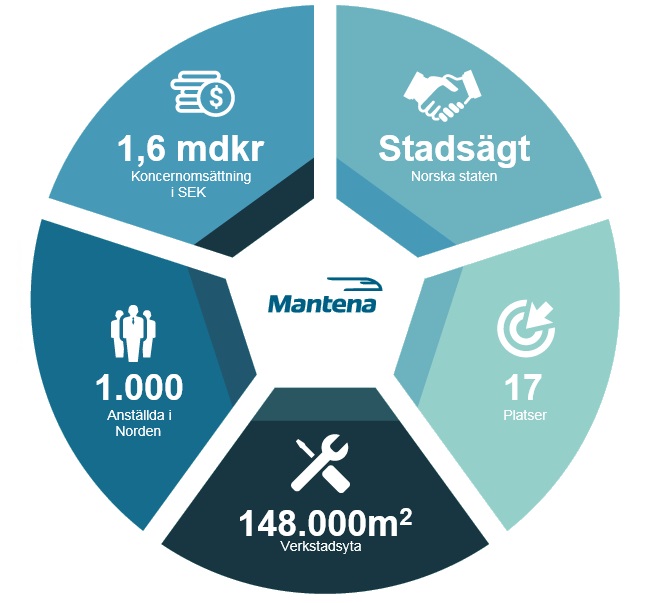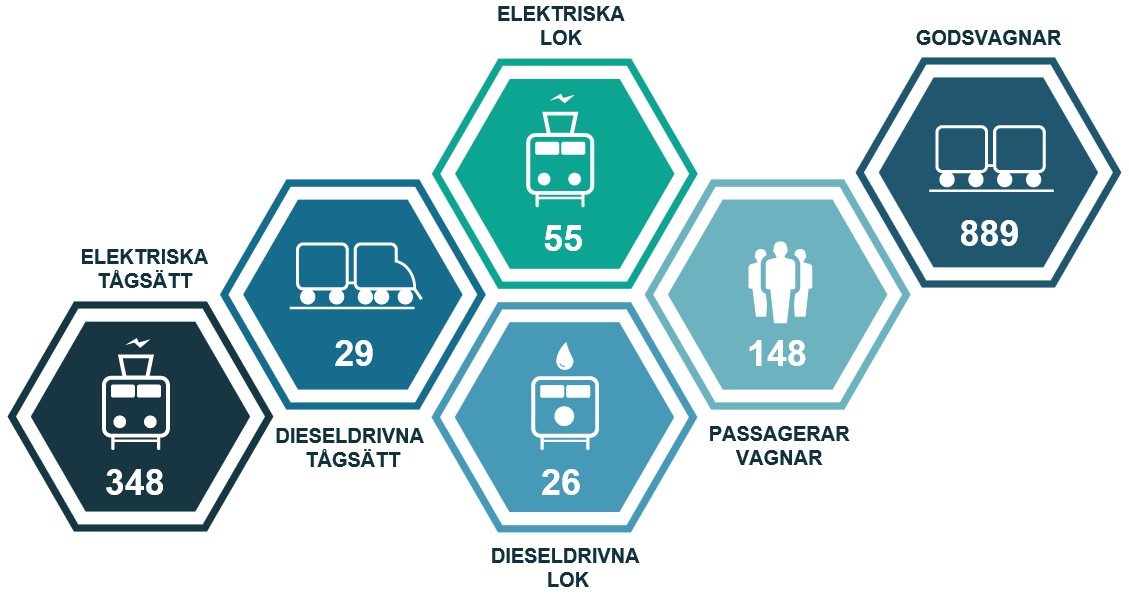 Group Management - Mantena AS
The Board of Mantena AS
Mantena is a limited liability company owned by the Ministry of Transport and Communications.
President:
Kari Broberg
Board Directors:  
Ronny Solberg (Vice President)
Board members:
Øyvind Hasaas
Marianne Kartum
Kjell Helmer Vekve Næss
Jomar Morten Kvitland
Petter Trønnes
Our business concept
Mantena will be an attractive player in the Nordic region in in the field of renewal and maintenance to the railway sector.
Vision
The Nordic region's most innovative total maintenance service supplier.
Mantena should be a harmonious, attractive and pleasant workplace.
Our employees should see Mantena as a positive part of their daily lives – we strive for continuous improvements and development of the business and the individual. We have a strong focus on work environment issues and think safety and quality in everything we do.
Our values:
– Confidence
– Efficiency
– Innovation
As a specialist in the maintenance of railway vehicles, Mantena continues a long tradition in the rail industry in the Nordic countries. 
Our expertise today includes everything from the largest and heaviest locomotives to the smallest and most advanced components.
Mantena is characterized by talented, dedicated employees who work every day to make sure everything is on track – quite literally. Our unique experience and knowledge of maintenance needs and logistics management make us an important partner for any player on the field.
Our knowledge and experience in the maintenance of railway vehicles has created a unique environment – both in the Nordic region and internationally.
In order to maintain our leading position in the future, we at Mantena continuously focus on the recruitment of qualified employees.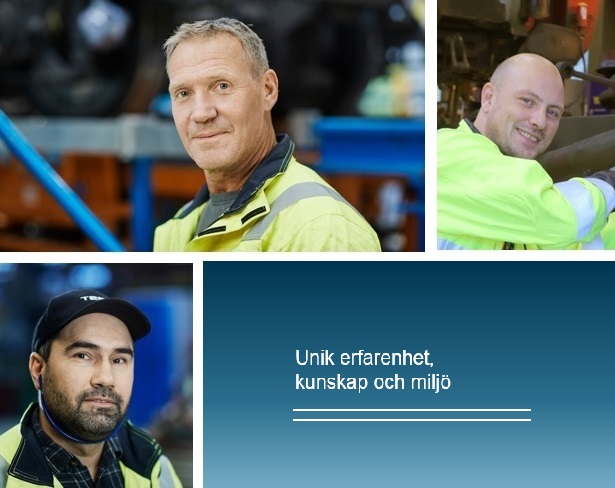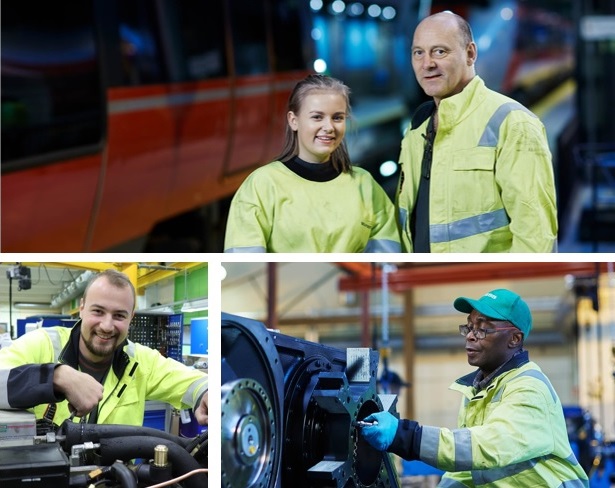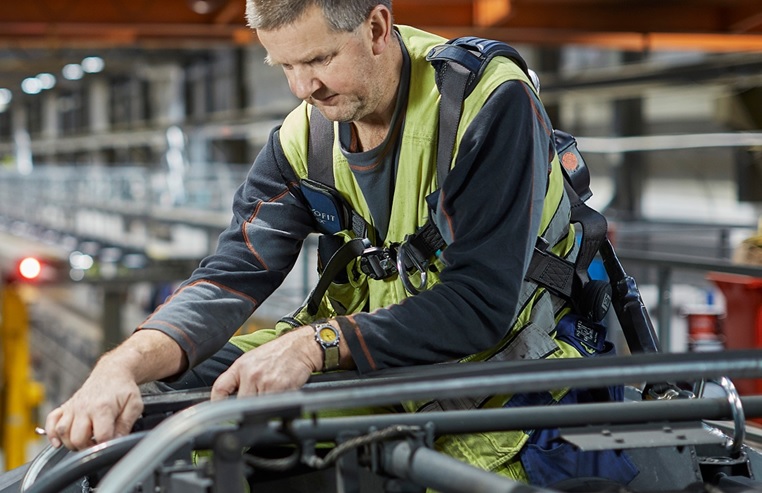 Mantena has safety as the first priority.
Mantena has established obstacles and processes to prevent incidents and reduce the consequences in the event of incidents.
Everyone reports unwanted events, injuries and incidents.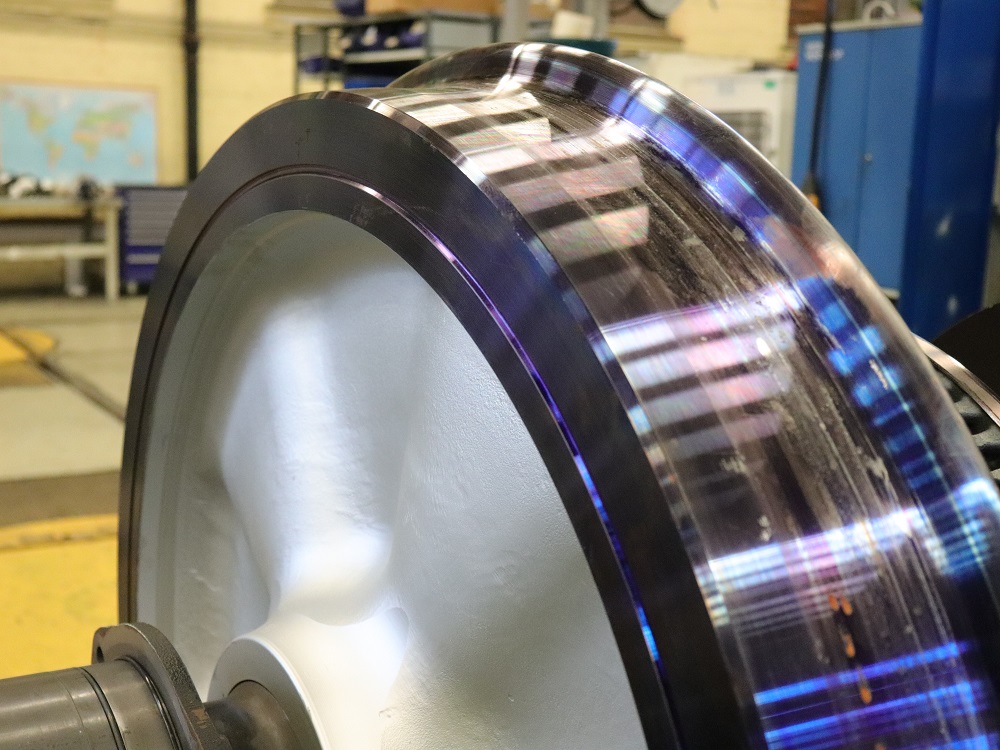 Mantena provides maintenance services that meet or exceed our relevant stakeholders' requirements and expectations.
We do this by systematically improving our business systems and adapting our processes. Our ambition is to create long-term customer relationships.
This means that we must have continuous dialogue with customers, enabling us to adapt the content and scope of our services in line with their needs. We must also ensure that employees have access to the most effective tools and methods.
Mantena's focus:
– Insight into deliveries at all levels 
– Improved data quality 
– Active use of target figures and CPI 
– Skills development 
– Continuous improvement of procedures and processes 
– Increased awareness
We have established and measurable quality goals that are regularly monitored and revised. The business system meets the requirements of ISO 9001: 2015.
More and more stringent environmental requirements are being set by the market and trains are a climate-friendly transport method – both for goods and passengers. 
As a major maintenance supplier in the Nordic region, Mantena has the goal of zero damage to the external environment.
For Mantena, environmental awareness and energy saving at all levels of the organization is an important goal. Several measures have been implemented – including saving energy, reducing the use of chemicals and, not least, environmental education among our employees.
There are still rail sections that are not electrified where diesel engines are used. Mantena has a high level of expertise and some of the best equipment for fine tuning diesel engines – both in terms of consumption and emissions.

Since the environment is central to a modern railway business, we in Mantena are always updated in this area. Through our own environmental report and participation in various environmental projects, we always have full overview and continuous focus on this work.
Mantena is certified in accordance with NS-EN ISO 14001:2015. Annual assessments of the company's environmental measures are carried out and significant environmental aspects are carried out, as a basis for the company's environmental work.
We work systematically to achieve our vision:
Mantena aims to be be one of Scandinavia's
most innovative suppliers of total maintenance
solutions to the railway sector
In this work, it is important to have well documented processes on everything we do and not least to follow established requirements and regulations.
Mantena is constantly working to adapt to an increasingly open Europe and to ensure compliance with existing and new requirements, regulations and standards. Formal certifications are an important part of this work.
Today, Mantena is certified to the following standards and requirements:
– ECM EU 445/2011 
– ECM I-III Mantena 
– ECM maintenance delivery function 
– Mantena Maintenance 
– Mantena Industry incl. Hamar 
– EN 15085-2 Welding on railway vehicles and components 
– NS-EN ISO 9001: 2015 Quality Management System 
– NS-EN ISO 14001: 2015 Environmental management 
– Company certification according to EU Regulation F-gas 842/2006 with sub-regulation 303/2008 
– Mantena NTO Certificate 2018-2022 
– TransQ certificates in relevant categories.
The purpose of the EU 445/2011 certification system is to create a framework for harmonizing requirements and methods for assessing the capabilities of entities responsible for maintenance throughout the Union. As of today, only freight wagons are subject to these requirements, but there are strong signals that this will be extended to other rolling vehicles.
In addition to these certifications, we are approved by clients, we are approved to train apprentices in several disciplines, and have several special certifications related to different operations. Mantena will ensure compliance with the new ISO 45001: 2018 standard and will consider continuous certification.
Mantena works continuously to improve and develop all processes.
To download brochures, press the flag with your language selection.
Ethics and whistleblowing
Suppliers and customers have the right to notify censurable conditions at Mantena Group.
Such conditions may be violations of legal rules, written ethical guidelines in the Group or ethical norms that are widely supported in the society.
Notification can be done by contacting Mantena at email ethics@mantena.org 
The notice will be received and confirmed by Mantena Group Legal Counsel and processed in accordance with the Group's routines.