Mantena will maintain the trains in southern Sweden and Øresund area. 
We are proud to inform that Mantena has signed a cooperation agreement with SJ as the total supplier of maintenance in the contract SJ has been awarded for the operation of the Öresund train.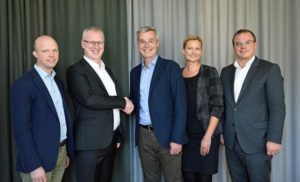 In the picture we see from the left Anders Gustavsson – CEO SJ Öresund, Kjetil Hovland – CEO Mantena, Christer Fritzson – CEO SJ, Silje Nilsen – Marketing Director Mantena and Fredrik Hultgreen – Bid Manager Mantena.
The Öresund contract is one of the largest maintenance contracts for trains in the Nordic countries.
It applies for 8 years starting in December 2020.
There are 111 trains with the designation X31 which operate the rail network from Copenhagen in Denmark to Malmö and Kalmar among others in Sweden, an area with about 5 million inhabitants.
We really appreciate the confidence we have been given by SJ, and the contract introduces a whole new way of working together where we together with SJ, will ensure increased punctuality and customer satisfaction in the years to come. The contract is very important for Mantena's development and commitment in the Nordic region as an independent maintenance supplier, says CEO Kjetil Hovland.
Mobilization for the contract has started in a newly built workshop in Hässleholm. Fredrik Hultgreen, who has been Mantena's Bid Manager, will initially lead the mobilization work on our side where the recruitment of about 100 people together with the completion of Sweden's most modern workshop becomes the central tasks.
The workshop is 26,000 square meters and designed for optimal performance within maintenance and cleaning of trains. The workshop is centrally located in the traffic system, and consists of five buildings containing the workshop, office, cleaning facility, subfloor lathe and combination hall.
---

If you are interested in hearing what Mantena can offer for you. You are welcome to report your interest in working with us in a future industry. Register your interest by registering information at this link:
https://mantena.org/intresseanmalan/
Or send your resume directly to otu2020@mantena.org