Marienborg workshop solves new challenges.
Last Autumn, Mantena received an exciting request to build and deliver two engines from scratch. The request came from Swedish AB Transitio, following an agreement entered into with the customer two years ago to overhaul engines.
Our workshop at Marienborg in Trondheim will build and assemble the engines. Both mechanics and their colleagues from other departments at Mantena have been working on the project for quite some time.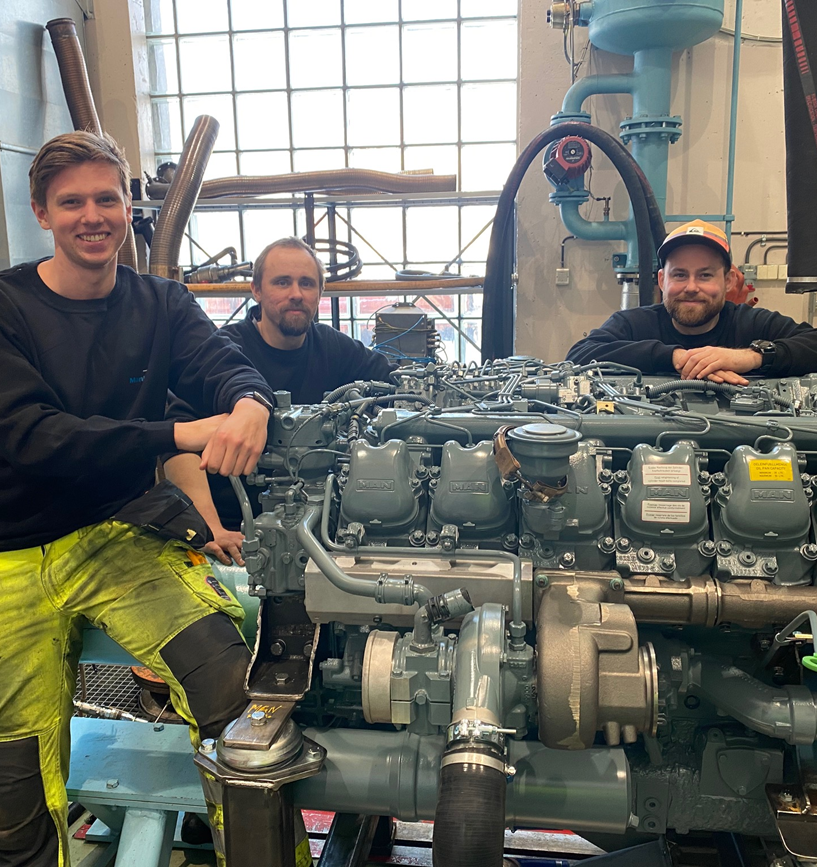 In this photo: Thomas Dahl, Håvard Vollelv, Anders Maaø Jakobsen
Satisfied project manager
Contract Manager Geir Helge Austberg has been Mantena's project manager for the delivery to AB Transitio. Although the project has brought new challenges, he talks of positive experiences and a successful project so far.
– We have previously revised various engines, i.e. completed overhaul and service work. This is something we have extensive and in-depth experience with. However, full construction of these types of engines is new to us. In this specific assignment, there are two MAN diesel engines for Itino trains. Since it is not possible to buy complete engines, we have had to build the engines from scratch.
Praising the effort
Austberg says the project has not only involved those who have worked directly on the engines, but also people who work with other parts of the value chain, such as purchasing, logistics and testing. The two engine jobs have therefore been a comprehensive assignment for Mantena.
– Many of us have worked with this delivery. Not least with testing and test driving. This has included driving the engines through a diagnostic station, performing load tests, analysing measurement values and adjusting the engines before delivery. Everyone has worked really hard.
At the moment, Austberg and his colleagues at Marienborg are working on completing the delivery of the first engine, which is due in March. The second engine is scheduled to be delivered during April or May.