Mantena has delivered an ATC system for Norway's longest track adjustment machine on behalf of NRC Bane AS.
ATC stands for Automatic Train Control. An ATC system is an automatic monitoring system that alerts of any irregularities. The system ensures that a train, whether it is a regular passenger train or a working train, is not able to drive too fast or through a red light.
Svein Ole Bakken is the contract manager for construction equipment at Mantena and has been the project manager for this delivery. Bakken says that the machine is equipped with two ATC systems due to the length of 57.5 metres.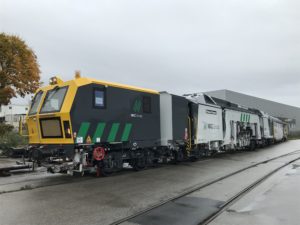 – All trains in Norway must have an ATC system installed in order to be allowed to run on Bane NOR's network. The purpose of an ATC system is simply to prevent trains or machines from running red lights.
In operation in March
Bakken says the team was in Austria before Christmas for commissioning. The track adjustment machine is now in Hamar for training and operational testing. Here, the ATC system is tested live on tracks, in accordance with test procedures. For the project manager, the project is now in its final stages prior to delivery.
This has been a comprehensive delivery for Mantena. As part of this project, we have supplied everything from electronics, cabling and contact materials to design, documentation and commissioning to the factory in Austria. The first part of the delivery took place just over a year ago; now the plan is for the track adjustment machine to be ready for operation in March.