Mantena is proud to announce that the final agreement with Go-Ahead for the delivery of full-service maintenance is signed for the "Rail Passenger Service Tender 1: South"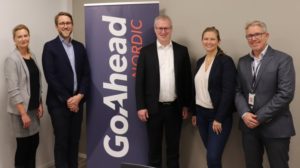 In the picture from left:
Silje Nilsen – Marketing Director Mantena,Joachim Nærø – Bid Manager, Mantena, Kjetil Hovland – CEO  Mantena,  Cathrine Elgin – CEO, Go-Ahead, Eirik Wærn Bratland – Senior Consultant, Go-Ahead,
The "Rail Passenger Service Tender 1: South" is the first contract to be awarded in the ongoing deregulation of the Norwegian rail sector and is a milestone award for Mantena. The contract includes all maintenance of passenger rail vehicles in use on the long-distance rail service between Oslo and Stavanger as well as the commuter rail service in Stavanger and Arendal. The contract duration is 8 years plus options for 1 + 1 year.
Mantena was selected by Go-Ahead shortly after their award by the Norwegian Rail Road Directorate. The time since the award has been spent on detailed contract negotiations which have focused on creating a balanced model, which ensures that both Mantena and Go-Ahead will work together to provide the best possible service. This will result in a reliable, safe and environmentally friendly means of transportation for the customers.
«We are proud and excited about the final agreement with Go-Ahead, which confirms Mantenas position in the market as a leading company in the development of the new Norwegian rail sector" says CEO Kjetil Hovland
Mantena is currently in full mobilization to secure the successful start of operations on December 15th 2019
Link to info page TP1: Ensides-annonse-Go-Ahead.pdf