News – We have moved! New opportunities in a new era
On Monday 18th November, we moved our headquarters to modern, new offices at the main Oslo train station, Oslo S.
But don´t worry! We have only moved a few hundred metres from our previous location to Jernbanetoget 1.
Here you can find us on the 6th floor of the DA-building, which is also home to many other rail companies.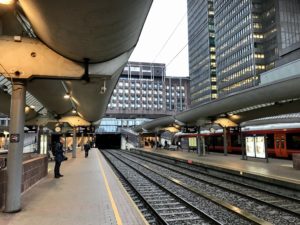 New opportunities!
The move opens up many new opportunities and represents a new era for us at Mantena. So why are we moving? Having experienced rapid growth in recent times, we need more space. But the move is also a result of our focus on innovation and sustainability. With new, more modern premises, we are able to create a flexible working space and meet future needs in a way that suits our organisation. Our new offices are more environmentally friendly, helping us to improve energy efficiency and promote environmental awareness in all areas of the organisation.
Mantena Technical Center
Our move also marks the opening of the Mantena Technical Centre (MTC). This is an important measure in improving customer service. MTC will be located in the new offices and will be manned 24 hours a day, 365 days a year. This will provide our customers with improved service and safer operations.
Welcome to our new offices in Jernbanetorget 1!